| | |
| --- | --- |
| You are viewing an outdated report. The latest version of this report was published on April 1st, 2020 | |
Web Server by IP Address - Server Report - III
September 1st, 2019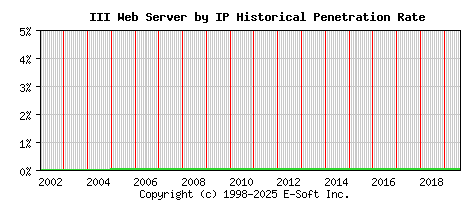 | | | | |
| --- | --- | --- | --- |
| Date | Count | % Share | % Growth |
| Aug 2019 | 576 | 0.01 | -4.79 |
| Jul 2019 | 595 | 0.01 | -9.46 |
| Jun 2019 | 648 | 0.01 | -4.78 |
| May 2019 | 673 | 0.01 | -10.19 |
| Apr 2019 | 742 | 0.01 | -5.13 |
| Mar 2019 | 776 | 0.02 | -6.66 |
| Feb 2019 | 818 | 0.02 | -2.92 |
| Jan 2019 | 850 | 0.02 | -0.85 |
| Dec 2018 | 854 | 0.02 | -2.04 |
| Nov 2018 | 873 | 0.02 | -1.33 |
| Oct 2018 | 889 | 0.02 | -0.12 |
| Sep 2018 | 892 | 0.02 | -0.93 |
| Aug 2018 | 903 | 0.02 | -1.11 |
| Jul 2018 | 914 | 0.02 | -0.34 |
| Jun 2018 | 917 | 0.02 | -0.81 |
| May 2018 | 927 | 0.02 | 0.64 |
| Apr 2018 | 927 | 0.02 | -0.10 |
| Mar 2018 | 937 | 0.02 | -0.63 |
| Feb 2018 | 949 | 0.02 | 11.30 |
| Jan 2018 | 569 | 0.02 | -2.99 |
| Dec 2017 | 969 | 0.02 | -3.78 |
| Nov 2017 | 1,001 | 0.02 | -0.93 |
| Oct 2017 | 1,001 | 0.02 | -0.15 |
| Sep 2017 | 998 | 0.02 | -1.22 |
| Aug 2017 | 1,002 | 0.02 | -0.44 |
| Jul 2017 | 1,004 | 0.02 | -3.99 |
| Jun 2017 | 1,035 | 0.02 | -1.59 |
| May 2017 | 1,051 | 0.02 | -1.72 |
| Apr 2017 | 1,055 | 0.02 | 0.25 |
| Mar 2017 | 1,052 | 0.02 | -0.51 |
| Feb 2017 | 1,060 | 0.02 | -1.14 |
| Jan 2017 | 1,059 | 0.02 | -0.71 |
| Dec 2016 | 1,069 | 0.02 | -2.08 |
| Nov 2016 | 1,078 | 0.02 | 147.67 |
| Oct 2016 | 170 | 0.01 | -60.28 |
| Sep 2016 | 1,088 | 0.02 | 0.19 |
| Aug 2016 | 1,082 | 0.02 | -1.11 |
| Jul 2016 | 1,076 | 0.02 | -3.07 |
| Jun 2016 | 1,093 | 0.02 | -0.78 |
| May 2016 | 1,100 | 0.02 | -3.62 |
| Apr 2016 | 1,105 | 0.02 | 16.76 |
| Mar 2016 | 1,107 | 0.02 | 0.73 |
| Feb 2016 | 1,112 | 0.02 | 0.10 |
| Jan 2016 | 1,114 | 0.02 | -0.55 |
| Dec 2015 | 1,133 | 0.02 | -1.20 |
| Nov 2015 | 1,143 | 0.02 | 0.28 |
| Oct 2015 | 1,146 | 0.02 | 0.40 |
| Sep 2015 | 1,147 | 0.02 | 0.02 |
| Aug 2015 | 1,149 | 0.02 | -0.33 |
| Jul 2015 | 1,146 | 0.02 | -0.39 |
| Jun 2015 | 1,155 | 0.02 | 0.17 |
| May 2015 | 1,158 | 0.02 | 0.40 |
| Apr 2015 | 1,160 | 0.02 | -0.43 |
| Mar 2015 | 1,165 | 0.02 | -0.52 |
| Feb 2015 | 1,162 | 0.02 | -1.15 |
| Jan 2015 | 1,169 | 0.02 | -1.11 |
| Dec 2014 | 1,171 | 0.02 | -0.18 |
| Nov 2014 | 1,177 | 0.02 | -0.44 |
| Oct 2014 | 1,172 | 0.02 | -1.62 |
| Sep 2014 | 1,185 | 0.02 | 0.38 |
| Aug 2014 | 1,188 | 0.02 | 0.64 |
| Jul 2014 | 1,173 | 0.02 | -1.85 |
| Jun 2014 | 1,190 | 0.02 | -0.39 |
| May 2014 | 1,198 | 0.02 | -0.56 |
| Apr 2014 | 1,204 | 0.02 | 0.39 |
| Mar 2014 | 1,197 | 0.02 | -0.82 |
| Feb 2014 | 1,204 | 0.02 | 1.35 |
| Jan 2014 | 1,187 | 0.02 | 0.85 |
| Dec 2013 | 1,168 | 0.02 | 0.21 |
| Nov 2013 | 1,164 | 0.02 | -2.08 |
| Oct 2013 | 1,184 | 0.02 | -1.09 |
| Sep 2013 | 1,188 | 0.02 | -0.44 |
| Aug 2013 | 1,187 | 0.02 | -1.17 |
| Jul 2013 | 1,193 | 0.02 | -1.97 |
| Jun 2013 | 1,206 | 0.02 | -0.47 |
| May 2013 | 1,203 | 0.02 | -0.44 |
| Apr 2013 | 1,194 | 0.02 | -0.52 |
| Mar 2013 | 1,195 | 0.02 | -0.60 |
| Feb 2013 | 1,196 | 0.02 | -0.58 |
| Jan 2013 | 1,198 | 0.02 | -0.46 |
| Dec 2012 | 1,194 | 0.02 | -0.85 |
| Nov 2012 | 1,201 | 0.02 | -0.13 |
| Oct 2012 | 1,197 | 0.02 | -0.77 |
| Sep 2012 | 1,200 | 0.02 | -0.07 |
| Aug 2012 | 1,194 | 0.02 | 0.09 |
| Jul 2012 | 1,188 | 0.02 | -0.54 |
| Jun 2012 | 1,192 | 0.02 | -0.22 |
| May 2012 | 1,181 | 0.02 | -2.17 |
| Apr 2012 | 1,195 | 0.02 | -0.27 |
| Mar 2012 | 1,189 | 0.02 | -0.30 |
| Feb 2012 | 1,185 | 0.02 | -1.17 |
| Jan 2012 | 1,186 | 0.02 | 0.79 |
| Dec 2011 | 1,165 | 0.02 | -1.61 |
| Nov 2011 | 1,176 | 0.02 | -0.02 |
| Oct 2011 | 1,170 | 0.02 | -0.45 |
| Sep 2011 | 1,166 | 0.03 | -0.03 |
| Aug 2011 | 1,158 | 0.03 | -1.23 |
| Jul 2011 | 1,159 | 0.03 | -0.82 |
| Jun 2011 | 1,166 | 0.03 | -1.22 |
| May 2011 | 1,174 | 0.03 | -0.28 |
| Apr 2011 | 1,171 | 0.03 | -0.99 |
| Mar 2011 | 1,172 | 0.03 | -0.87 |
| Feb 2011 | 1,165 | 0.03 | -0.63 |
| Jan 2011 | 1,161 | 0.03 | -1.57 |
| Dec 2010 | 1,166 | 0.03 | -1.01 |
| Nov 2010 | 1,166 | 0.03 | -0.37 |
| Oct 2010 | 1,159 | 0.03 | 0.31 |
| Sep 2010 | 1,148 | 0.03 | -0.61 |
| Aug 2010 | 1,146 | 0.03 | -0.47 |
| Jul 2010 | 1,144 | 0.03 | -1.09 |
| Jun 2010 | 1,147 | 0.03 | -0.33 |
| May 2010 | 1,141 | 0.03 | -1.34 |
| Apr 2010 | 1,140 | 0.03 | 0.08 |
| Mar 2010 | 1,135 | 0.03 | -0.51 |
| Feb 2010 | 1,129 | 0.03 | -0.67 |
| Jan 2010 | 1,129 | 0.03 | -0.66 |
| Dec 2009 | 1,129 | 0.03 | 0.46 |
| Nov 2009 | 1,118 | 0.03 | 0.16 |
| Oct 2009 | 1,111 | 0.03 | -0.87 |
| Sep 2009 | 1,112 | 0.03 | -0.41 |
| Aug 2009 | 1,108 | 0.03 | -0.71 |
| Jul 2009 | 1,105 | 0.03 | 0.05 |
| Jun 2009 | 1,107 | 0.03 | -1.44 |
| May 2009 | 1,096 | 0.03 | 1.08 |
| Apr 2009 | 1,090 | 0.03 | 0.86 |
| Mar 2009 | 1,089 | 0.03 | 0.12 |
| Feb 2009 | 1,083 | 0.03 | -0.58 |
| Jan 2009 | 1,087 | 0.03 | 2.02 |
| Dec 2008 | 1,060 | 0.03 | -1.00 |
| Nov 2008 | 1,060 | 0.03 | -1.06 |
| Oct 2008 | 1,073 | 0.03 | 1.11 |
| Sep 2008 | 1,055 | 0.03 | -2.51 |
| Aug 2008 | 1,069 | 0.03 | -2.30 |
| Jul 2008 | 1,040 | 0.03 | 2.60 |
| Jun 2008 | 1,045 | 0.03 | -1.41 |
| May 2008 | 1,050 | 0.03 | -1.55 |
| Apr 2008 | 1,054 | 0.03 | 0.44 |
| Mar 2008 | 1,040 | 0.03 | -0.71 |
| Feb 2008 | 1,039 | 0.03 | 1.16 |
| Jan 2008 | 1,019 | 0.03 | -1.91 |
| Dec 2007 | 1,014 | 0.03 | 0.11 |
| Nov 2007 | 1,008 | 0.03 | -0.66 |
| Oct 2007 | 1,015 | 0.03 | -1.25 |
| Sep 2007 | 1,018 | 0.03 | 0.53 |
| Aug 2007 | 1,003 | 0.03 | 0.14 |
| Jul 2007 | 1,002 | 0.03 | -0.30 |
| Jun 2007 | 1,000 | 0.03 | -0.56 |
| May 2007 | 999 | 0.03 | -0.79 |
| Apr 2007 | 1,000 | 0.03 | 0.22 |
| Mar 2007 | 987 | 0.03 | -0.99 |
| Feb 2007 | 983 | 0.03 | -0.06 |
| Jan 2007 | 977 | 0.03 | 0.19 |
| Dec 2006 | 970 | 0.03 | 0.25 |
| Nov 2006 | 967 | 0.03 | -0.52 |
| Oct 2006 | 963 | 0.03 | -0.28 |
| Sep 2006 | 956 | 0.03 | 0.62 |
| Aug 2006 | 936 | 0.03 | -1.65 |
| Jul 2006 | 944 | 0.03 | -0.14 |
| Jun 2006 | 940 | 0.03 | -0.78 |
| May 2006 | 939 | 0.03 | -0.94 |
| Apr 2006 | 941 | 0.03 | -0.84 |
| Mar 2006 | 943 | 0.03 | -0.32 |
| Feb 2006 | 936 | 0.03 | -0.61 |
| Jan 2006 | 932 | 0.03 | -0.95 |
| Dec 2005 | 931 | 0.03 | -0.34 |
| Nov 2005 | 919 | 0.03 | 0.59 |
| Oct 2005 | 907 | 0.03 | 0.01 |
| Sep 2005 | 896 | 0.03 | -0.41 |
| Aug 2005 | 893 | 0.03 | -0.40 |
| Jul 2005 | 898 | 0.03 | 1.06 |
| Jun 2005 | 891 | 0.03 | 0.15 |
| May 2005 | 890 | 0.03 | -0.57 |
| Apr 2005 | 897 | 0.03 | -0.33 |
| Mar 2005 | 892 | 0.03 | -0.49 |
| Feb 2005 | 888 | 0.03 | 0.03 |
| Jan 2005 | 884 | 0.03 | 0.67 |
| Dec 2004 | 868 | 0.03 | N/A |
Note: Readers are cautioned that the Growth percentages are based on a server's market share penetration rather than the absolute number of servers we detected. Thus, it is possible for the number of server to increase, while the growth is actually a negative value.
---
Startseite | Über uns | Kontakt | Partnerprogramme | Developer APIs | Datenschutz | Mailinglisten | Missbrauch
Sicherheits Überprüfungen | Verwaltete DNS | Netzwerk Überwachung | Webseiten Analysator | Internet Recherche Berichte
Web Sonde
© 1998-2020 E-Soft Inc. Alle Rechte vorbehalten.