| | |
| --- | --- |
| You are viewing an outdated report. The latest version of this report was published on April 1st, 2020 | |
Mail Hosting Report for rapidomaine.biz - Historical Data
October 1st, 2019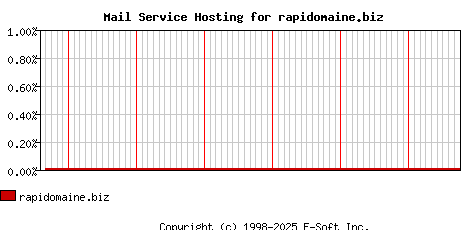 | | | | |
| --- | --- | --- | --- |
| Date | Count | % Share | % Growth |
| Sep 2019 | 456 | 0.00 | -1.40 |
| Aug 2019 | 462 | 0.00 | 0.08 |
| Jul 2019 | 460 | 0.00 | -4.92 |
| Jun 2019 | 480 | 0.00 | 5.33 |
| May 2019 | 456 | 0.00 | -0.76 |
| Apr 2019 | 458 | 0.00 | -2.97 |
| Mar 2019 | 469 | 0.00 | 0.06 |
| Feb 2019 | 468 | 0.00 | -1.46 |
| Jan 2019 | 480 | 0.00 | -0.16 |
| Dec 2018 | 483 | 0.00 | -0.26 |
| Nov 2018 | 488 | 0.00 | -0.67 |
| Oct 2018 | 494 | 0.00 | -0.51 |
| Sep 2018 | 497 | 0.00 | 0.83 |
| Aug 2018 | 500 | 0.00 | -0.03 |
| Jul 2018 | 502 | 0.00 | 0.30 |
| Jun 2018 | 502 | 0.00 | -1.29 |
| May 2018 | 513 | 0.00 | 0.40 |
| Apr 2018 | 513 | 0.00 | -1.12 |
| Mar 2018 | 525 | 0.00 | -0.79 |
| Feb 2018 | 534 | 0.00 | -0.80 |
| Jan 2018 | 543 | 0.00 | 1.21 |
| Dec 2017 | 576 | 0.00 | -0.51 |
| Nov 2017 | 575 | 0.00 | -0.35 |
| Oct 2017 | 571 | 0.00 | -0.29 |
| Sep 2017 | 577 | 0.00 | 0.00 |
| Aug 2017 | 558 | 0.00 | 0.33 |
| Jul 2017 | 567 | 0.00 | -1.09 |
| Jun 2017 | 574 | 0.00 | 0.40 |
| May 2017 | 570 | 0.00 | 0.49 |
| Apr 2017 | 569 | 0.00 | -0.66 |
| Mar 2017 | 569 | 0.00 | -0.02 |
| Feb 2017 | 558 | 0.00 | -2.71 |
| Jan 2017 | 566 | 0.00 | 0.14 |
| Dec 2016 | 561 | 0.00 | 1.84 |
| Nov 2016 | 551 | 0.00 | -0.64 |
| Oct 2016 | 548 | 0.00 | -0.73 |
| Sep 2016 | 511 | 0.00 | 0.65 |
| Aug 2016 | 542 | 0.00 | 1.51 |
| Jul 2016 | 503 | 0.00 | -2.68 |
| Jun 2016 | 512 | 0.00 | 1.10 |
| May 2016 | 507 | 0.00 | 0.24 |
| Apr 2016 | 655 | 0.00 | 1.38 |
| Mar 2016 | 589 | 0.00 | -0.88 |
| Feb 2016 | 667 | 0.00 | 1.28 |
| Jan 2016 | 670 | 0.00 | 7.88 |
| Dec 2015 | 678 | 0.00 | -1.48 |
| Nov 2015 | 684 | 0.00 | -0.63 |
| Oct 2015 | 684 | 0.00 | 0.57 |
| Sep 2015 | 682 | 0.00 | 0.62 |
| Aug 2015 | 686 | 0.00 | -1.67 |
| Jul 2015 | 691 | 0.00 | -0.98 |
| Jun 2015 | 693 | 0.00 | -0.61 |
| May 2015 | 698 | 0.00 | -0.45 |
| Apr 2015 | 700 | 0.00 | -0.28 |
| Mar 2015 | 682 | 0.00 | -1.47 |
| Feb 2015 | 684 | 0.00 | 0.40 |
| Jan 2015 | 714 | 0.00 | 0.24 |
| Dec 2014 | 711 | 0.00 | 0.83 |
| Nov 2014 | 707 | 0.00 | 0.73 |
| Oct 2014 | 696 | 0.00 | 1.41 |
| Sep 2014 | 669 | 0.00 | -3.28 |
| Aug 2014 | 702 | 0.00 | 1.00 |
| Jul 2014 | 706 | 0.00 | -2.87 |
| Jun 2014 | 721 | 0.00 | 0.39 |
| May 2014 | 715 | 0.00 | 0.26 |
| Apr 2014 | 713 | 0.00 | -0.68 |
| Mar 2014 | 712 | 0.00 | 4.20 |
| Feb 2014 | 682 | 0.00 | -2.99 |
| Jan 2014 | 703 | 0.00 | 0.50 |
| Dec 2013 | 695 | 0.00 | -0.97 |
| Nov 2013 | 687 | 0.00 | 0.30 |
| Oct 2013 | 694 | 0.00 | -0.83 |
| Sep 2013 | 693 | 0.00 | -0.32 |
| Aug 2013 | 689 | 0.00 | N/A |
Note: Readers are cautioned that the Growth percentages are based on a server's market share penetration rather than the absolute number of servers we detected. Thus, it is possible for the number of server to increase, while the growth is actually a negative value.
---
Home | About Us | Contact Us | Partner Programs | Developer APIs | Privacy | Mailing Lists | Abuse
Security Audits | Managed DNS | Network Monitoring | Site Analyzer | Internet Research Reports
Web Probe
© 1998-2020 E-Soft Inc. All rights reserved.