| | |
| --- | --- |
| You are viewing an outdated report. The latest version of this report was published on February 1st, 2020 | |
Apache Module Report - mod_bwProtect
May 1st, 2007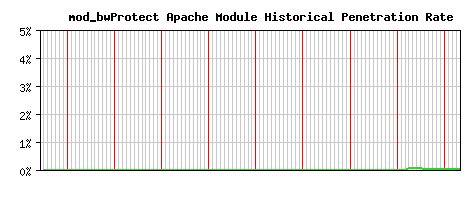 | | | | |
| --- | --- | --- | --- |
| Date | Count | % Share | % Growth |
| Apr 2007 | 2925 | 0.02 | -4.37 |
| Mar 2007 | 2971 | 0.02 | 13.04 |
| Feb 2007 | 2532 | 0.02 | -31.40 |
| Jan 2007 | 3563 | 0.02 | -24.23 |
| Dec 2006 | 4668 | 0.03 | -8.89 |
| Nov 2006 | 5078 | 0.03 | -4.46 |
| Oct 2006 | 5256 | 0.03 | -2.98 |
| Sep 2006 | 5342 | 0.04 | 7.88 |
| Aug 2006 | 4785 | 0.03 | -6.53 |
| Jul 2006 | 5062 | 0.03 | -5.39 |
| Jun 2006 | 5218 | 0.04 | -4.37 |
| May 2006 | 5310 | 0.04 | -6.30 |
| Apr 2006 | 5459 | 0.04 | -8.99 |
| Mar 2006 | 5785 | 0.05 | N/A |
Note: Readers are cautioned that the Growth percentages are based on a module's market share penetration rather than the absolute number of modules we detected. Thus, it is possible for the number of modules to increase, while the growth is actually a negative value.
Looking for a specific module? Check the module registry at http://modules.apache.org


---
Home | About Us | Contact Us | Partner Programs | Developer APIs | Privacy | Mailing Lists | Abuse
Security Audits | Managed DNS | Network Monitoring | Site Analyzer | Internet Research Reports
Web Probe
© 1998-2020 E-Soft Inc. All rights reserved.