| | |
| --- | --- |
| You are viewing an outdated report. The latest version of this report was published on April 1st, 2020 | |
Web Server by IP Address - Server Report - nginx
October 1st, 2010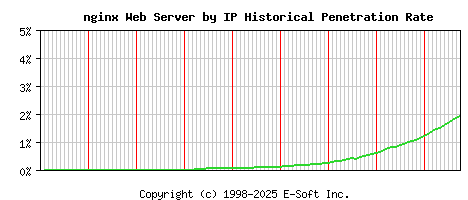 | | | | |
| --- | --- | --- | --- |
| Date | Count | % Share | % Growth |
| Sep 2010 | 80,165 | 1.91 | 4.31 |
| Aug 2010 | 76,248 | 1.83 | 3.91 |
| Jul 2010 | 72,908 | 1.76 | 5.49 |
| Jun 2010 | 68,541 | 1.67 | 4.75 |
| May 2010 | 64,878 | 1.59 | 6.46 |
| Apr 2010 | 60,073 | 1.50 | 4.70 |
| Mar 2010 | 57,168 | 1.43 | 3.53 |
| Feb 2010 | 54,648 | 1.38 | 8.82 |
| Jan 2010 | 49,884 | 1.27 | 5.54 |
| Dec 2009 | 46,953 | 1.20 | 5.47 |
| Nov 2009 | 44,287 | 1.14 | 6.77 |
| Oct 2009 | 41,283 | 1.07 | 5.31 |
| Sep 2009 | 38,895 | 1.01 | 4.57 |
| Aug 2009 | 36,910 | 0.97 | 4.94 |
| Jul 2009 | 34,830 | 0.92 | 6.19 |
| Jun 2009 | 32,874 | 0.87 | 6.73 |
| May 2009 | 30,056 | 0.82 | 1.75 |
| Apr 2009 | 29,695 | 0.80 | 6.82 |
| Mar 2009 | 28,012 | 0.75 | 5.94 |
| Feb 2009 | 26,327 | 0.71 | 15.39 |
| Jan 2009 | 22,768 | 0.61 | 3.76 |
| Dec 2008 | 21,831 | 0.59 | 7.76 |
| Nov 2008 | 20,055 | 0.55 | 8.80 |
| Oct 2008 | 18,461 | 0.50 | 6.36 |
| Sep 2008 | 17,255 | 0.47 | 5.84 |
| Aug 2008 | 16,105 | 0.45 | 14.17 |
| Jul 2008 | 13,408 | 0.39 | -1.91 |
| Jun 2008 | 14,091 | 0.40 | 6.63 |
| May 2008 | 13,091 | 0.38 | 8.83 |
| Apr 2008 | 11,888 | 0.34 | 10.45 |
| Mar 2008 | 10,667 | 0.31 | 9.09 |
| Feb 2008 | 9,700 | 0.29 | 7.38 |
| Jan 2008 | 8,962 | 0.27 | 9.74 |
| Dec 2007 | 7,971 | 0.24 | 8.05 |
| Nov 2007 | 7,342 | 0.22 | 7.75 |
| Oct 2007 | 6,816 | 0.21 | 6.17 |
| Sep 2007 | 6,358 | 0.20 | 7.65 |
| Aug 2007 | 5,850 | 0.18 | 5.09 |
| Jul 2007 | 5,569 | 0.17 | 5.08 |
| Jun 2007 | 5,273 | 0.17 | 4.53 |
| May 2007 | 5,011 | 0.16 | 5.65 |
| Apr 2007 | 4,710 | 0.15 | 6.39 |
| Mar 2007 | 4,379 | 0.14 | 11.35 |
| Feb 2007 | 3,878 | 0.13 | 9.81 |
| Jan 2007 | 3,508 | 0.12 | 8.31 |
| Dec 2006 | 3,222 | 0.11 | 6.87 |
| Nov 2006 | 3,013 | 0.10 | 5.70 |
| Oct 2006 | 2,824 | 0.09 | 5.54 |
| Sep 2006 | 2,649 | 0.09 | 3.27 |
| Aug 2006 | 2,527 | 0.09 | 4.05 |
| Jul 2006 | 2,409 | 0.08 | 7.61 |
| Jun 2006 | 2,226 | 0.08 | 10.48 |
| May 2006 | 1,997 | 0.07 | 6.41 |
| Apr 2006 | 1,863 | 0.07 | 6.83 |
| Mar 2006 | 1,733 | 0.06 | 6.76 |
| Feb 2006 | 1,606 | 0.06 | 2.34 |
| Jan 2006 | 1,553 | 0.06 | 10.62 |
| Dec 2005 | 1,389 | 0.05 | 3.83 |
| Nov 2005 | 1,316 | 0.05 | 6.13 |
| Oct 2005 | 1,231 | 0.05 | 6.12 |
| Sep 2005 | 1,146 | 0.04 | 1.38 |
| Aug 2005 | 1,122 | 0.04 | 8.16 |
| Jul 2005 | 1,039 | 0.04 | 0.66 |
| Jun 2005 | 1,035 | 0.04 | 13.77 |
| May 2005 | 910 | 0.03 | 30.28 |
| Apr 2005 | 700 | 0.03 | 325.66 |
| Mar 2005 | 163 | 0.01 | N/A |
Note: Readers are cautioned that the Growth percentages are based on a server's market share penetration rather than the absolute number of servers we detected. Thus, it is possible for the number of server to increase, while the growth is actually a negative value.
---
Principal | Acerca de Nosotros | Contáctenos | Programas de Asociado | Developer APIs | Privacidad | Listas de Correo | Abuso
Auditorías de Seguridad | DNS Administrado | Monitoreo de Red | Analizador de Sitio | Informes de Investigación de Internet
Prueba de Web
© 1998-2020 E-Soft Inc. Todos los derechos reservados.