| | |
| --- | --- |
| You are viewing an outdated report. The latest version of this report was published on April 1st, 2020 | |
Apache Module Report - mod_czech
October 1st, 2010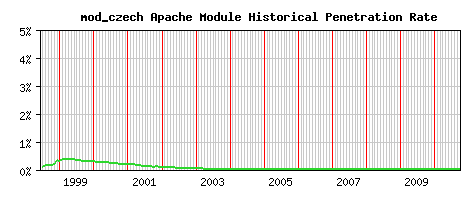 | | | | |
| --- | --- | --- | --- |
| Date | Count | % Share | % Growth |
| Sep 2010 | 56 | 0.00 | -4.47 |
| Aug 2010 | 58 | 0.00 | 7.80 |
| Jul 2010 | 53 | 0.00 | -17.12 |
| Jun 2010 | 63 | 0.00 | -5.20 |
| May 2010 | 66 | 0.00 | -3.66 |
| Apr 2010 | 67 | 0.00 | -1.05 |
| Mar 2010 | 67 | 0.00 | -11.30 |
| Feb 2010 | 73 | 0.00 | -3.64 |
| Jan 2010 | 75 | 0.00 | -1.51 |
| Dec 2009 | 75 | 0.00 | -2.12 |
| Nov 2009 | 76 | 0.00 | -6.40 |
| Oct 2009 | 80 | 0.00 | -0.03 |
| Sep 2009 | 79 | 0.00 | -3.36 |
| Aug 2009 | 81 | 0.00 | 10.65 |
| Jul 2009 | 72 | 0.00 | -18.97 |
| Jun 2009 | 87 | 0.00 | -7.57 |
| May 2009 | 90 | 0.00 | 0.02 |
| Apr 2009 | 91 | 0.00 | -10.37 |
| Mar 2009 | 104 | 0.00 | -15.06 |
| Feb 2009 | 121 | 0.00 | -3.71 |
| Jan 2009 | 126 | 0.00 | 22.55 |
| Dec 2008 | 100 | 0.00 | -21.98 |
| Nov 2008 | 125 | 0.00 | -6.60 |
| Oct 2008 | 132 | 0.00 | -7.00 |
| Sep 2008 | 142 | 0.00 | -4.58 |
| Aug 2008 | 145 | 0.00 | 30.68 |
| Jul 2008 | 108 | 0.00 | -38.20 |
| Jun 2008 | 171 | 0.00 | -17.41 |
| May 2008 | 204 | 0.00 | -11.51 |
| Apr 2008 | 211 | 0.00 | -8.22 |
| Mar 2008 | 226 | 0.00 | -15.19 |
| Feb 2008 | 261 | 0.00 | 9.40 |
| Jan 2008 | 232 | 0.00 | -4.63 |
| Dec 2007 | 234 | 0.00 | -3.23 |
| Nov 2007 | 243 | 0.00 | -85.04 |
| Oct 2007 | 1624 | 0.01 | -1.36 |
| Sep 2007 | 1618 | 0.01 | -1.05 |
| Aug 2007 | 1625 | 0.01 | 1.41 |
| Jul 2007 | 1590 | 0.01 | -2.95 |
| Jun 2007 | 1622 | 0.01 | 0.41 |
| May 2007 | 1598 | 0.01 | -0.99 |
| Apr 2007 | 1581 | 0.01 | -0.60 |
| Mar 2007 | 1545 | 0.01 | -3.60 |
| Feb 2007 | 1544 | 0.01 | -1.49 |
| Jan 2007 | 1513 | 0.01 | 0.06 |
| Dec 2006 | 1501 | 0.01 | -1.48 |
| Nov 2006 | 1510 | 0.01 | -0.72 |
| Oct 2006 | 1504 | 0.01 | 2.63 |
| Sep 2006 | 1445 | 0.01 | -3.57 |
| Aug 2006 | 1448 | 0.01 | -0.56 |
| Jul 2006 | 1440 | 0.01 | -2.41 |
| Jun 2006 | 1439 | 0.01 | -1.38 |
| May 2006 | 1420 | 0.01 | -1.23 |
| Apr 2006 | 1385 | 0.01 | -2.78 |
| Mar 2006 | 1374 | 0.01 | -1.56 |
| Feb 2006 | 1360 | 0.01 | 0.21 |
| Jan 2006 | 1338 | 0.01 | 0.27 |
| Dec 2005 | 1304 | 0.01 | -1.70 |
| Nov 2005 | 1287 | 0.01 | -1.60 |
| Oct 2005 | 1286 | 0.01 | -1.58 |
| Sep 2005 | 1276 | 0.01 | -1.18 |
| Aug 2005 | 1275 | 0.01 | 1.34 |
| Jul 2005 | 1258 | 0.01 | -1.02 |
| Jun 2005 | 1253 | 0.01 | -0.04 |
| May 2005 | 1247 | 0.01 | -2.23 |
| Apr 2005 | 1246 | 0.01 | -5.80 |
| Mar 2005 | 1232 | 0.01 | 73.77 |
| Feb 2005 | 1206 | 0.01 | -13.39 |
| Jan 2005 | 1183 | 0.01 | -6.56 |
| Dec 2004 | 1369 | 0.01 | -8.41 |
| Nov 2004 | 1365 | 0.01 | -6.28 |
| Oct 2004 | 1351 | 0.01 | -11.43 |
| Sep 2004 | 1421 | 0.01 | -12.50 |
| Aug 2004 | 1454 | 0.01 | -3.24 |
| Jul 2004 | 1463 | 0.01 | -6.29 |
| Jun 2004 | 1488 | 0.01 | 0.79 |
| May 2004 | 1531 | 0.01 | -19.60 |
| Apr 2004 | 1860 | 0.02 | -0.25 |
| Mar 2004 | 1813 | 0.02 | 1.29 |
| Feb 2004 | 1768 | 0.02 | -2.48 |
| Jan 2004 | 1755 | 0.02 | -3.39 |
| Dec 2003 | 1766 | 0.02 | -6.81 |
| Nov 2003 | 1791 | 0.02 | -6.53 |
| Oct 2003 | 1809 | 0.02 | -2.79 |
| Sep 2003 | 1792 | 0.02 | -3.05 |
| Aug 2003 | 1785 | 0.02 | -5.46 |
| Jul 2003 | 1826 | 0.02 | -4.66 |
| Jun 2003 | 1813 | 0.03 | -20.77 |
| May 2003 | 2210 | 0.03 | 11.97 |
| Apr 2003 | 1874 | 0.03 | -17.35 |
| Mar 2003 | 2150 | 0.04 | -5.21 |
| Feb 2003 | 2164 | 0.04 | -3.30 |
| Jan 2003 | 2106 | 0.04 | 3.43 |
| Dec 2002 | 1974 | 0.04 | -7.02 |
| Nov 2002 | 2038 | 0.04 | -2.64 |
| Oct 2002 | 2187 | 0.04 | 1.59 |
| Sep 2002 | 2427 | 0.04 | 3.80 |
| Aug 2002 | 2264 | 0.04 | -15.16 |
| Jul 2002 | 2629 | 0.05 | -19.04 |
| Jun 2002 | 3143 | 0.06 | -16.00 |
| May 2002 | 3073 | 0.07 | -9.84 |
| Apr 2002 | 3078 | 0.07 | -9.10 |
| Mar 2002 | 3194 | 0.08 | -2.33 |
| Feb 2002 | 3034 | 0.08 | -10.38 |
| Jan 2002 | 2925 | 0.09 | -5.57 |
| Dec 2001 | 2808 | 0.10 | -0.66 |
| Nov 2001 | 2687 | 0.10 | -7.94 |
| Oct 2001 | 2680 | 0.11 | 3.11 |
| Sep 2001 | 2440 | 0.11 | -5.95 |
| Aug 2001 | 2384 | 0.11 | -2.20 |
| Jul 2001 | 2268 | 0.11 | -4.28 |
| Jun 2001 | 2270 | 0.12 | -14.48 |
| May 2001 | 2434 | 0.14 | -3.17 |
| Apr 2001 | 2341 | 0.14 | -9.70 |
| Mar 2001 | 2427 | 0.16 | -11.15 |
| Feb 2001 | 2673 | 0.18 | -8.08 |
| Jan 2001 | 2856 | 0.20 | -3.43 |
| Dec 2000 | 2840 | 0.20 | -4.56 |
| Nov 2000 | 2890 | 0.21 | 3.71 |
| Oct 2000 | 2713 | 0.20 | -2.92 |
| Sep 2000 | 2785 | 0.21 | -3.84 |
| Aug 2000 | 2706 | 0.22 | -6.77 |
| Jul 2000 | 2981 | 0.23 | -5.98 |
| Jun 2000 | 3063 | 0.25 | -5.01 |
| May 2000 | 3213 | 0.26 | -5.14 |
| Apr 2000 | 3302 | 0.28 | -0.27 |
| Mar 2000 | 3281 | 0.28 | 1.58 |
| Feb 2000 | 3020 | 0.27 | 4.78 |
| Jan 2000 | 2865 | 0.26 | -11.83 |
| Dec 1999 | 3166 | 0.30 | -3.01 |
| Nov 1999 | 3237 | 0.31 | 0.80 |
| Oct 1999 | 3045 | 0.30 | -5.33 |
| Sep 1999 | 3105 | 0.32 | 0.22 |
| Aug 1999 | 2964 | 0.32 | -3.06 |
| Jul 1999 | 2920 | 0.33 | -0.68 |
| Jun 1999 | 2821 | 0.33 | -9.76 |
| May 1999 | 3065 | 0.37 | -0.12 |
| Apr 1999 | 2933 | 0.37 | -0.80 |
| Mar 1999 | 2868 | 0.37 | 3.17 |
| Feb 1999 | 2644 | 0.36 | -2.84 |
| Jan 1999 | 2634 | 0.37 | 20.40 |
| Dec 1998 | 2118 | 0.31 | -9.53 |
| Nov 1998 | 2283 | 0.34 | 82.83 |
| Oct 1998 | 1058 | 0.19 | 5.12 |
| Sep 1998 | 969 | 0.18 | 14.68 |
| Aug 1998 | 789 | 0.15 | 2.86 |
| Jul 1998 | 738 | 0.15 | 66.23 |
| Jun 1998 | 402 | 0.09 | N/A |
Note: Readers are cautioned that the Growth percentages are based on a module's market share penetration rather than the absolute number of modules we detected. Thus, it is possible for the number of modules to increase, while the growth is actually a negative value.
Looking for a specific module? Check the module registry at http://modules.apache.org


---
Principal | Acerca de Nosotros | Contáctenos | Programas de Asociado | Developer APIs | Privacidad | Listas de Correo | Abuso
Auditorías de Seguridad | DNS Administrado | Monitoreo de Red | Analizador de Sitio | Informes de Investigación de Internet
Prueba de Web
© 1998-2020 E-Soft Inc. Todos los derechos reservados.