| | |
| --- | --- |
| You are viewing an outdated report. The latest version of this report was published on April 1st, 2020 | |
Apache Module Report - AxKit
October 1st, 2004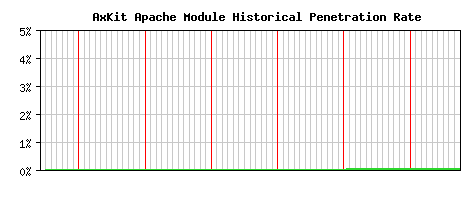 | | | | |
| --- | --- | --- | --- |
| Date | Count | % Share | % Growth |
| Sep 2004 | 2174 | 0.02 | -10.75 |
| Aug 2004 | 2181 | 0.02 | -1.33 |
| Jul 2004 | 2152 | 0.02 | -2.61 |
| Jun 2004 | 2106 | 0.02 | 4.70 |
| May 2004 | 2086 | 0.02 | -2.37 |
| Apr 2004 | 2087 | 0.02 | 14.12 |
| Mar 2004 | 1778 | 0.02 | 2.64 |
| Feb 2004 | 1711 | 0.02 | 1.30 |
| Jan 2004 | 1635 | 0.02 | 38.46 |
| Dec 2003 | 1148 | 0.01 | 0.09 |
| Nov 2003 | 1084 | 0.01 | -27.53 |
| Oct 2003 | 1412 | 0.02 | -0.09 |
| Sep 2003 | 1361 | 0.02 | -0.28 |
| Aug 2003 | 1318 | 0.02 | -1.19 |
| Jul 2003 | 1290 | 0.02 | -6.06 |
| Jun 2003 | 1300 | 0.02 | -2.29 |
| May 2003 | 1285 | 0.02 | 9.33 |
| Apr 2003 | 1116 | 0.02 | 2.24 |
| Mar 2003 | 1035 | 0.02 | 0.66 |
| Feb 2003 | 981 | 0.02 | -1.68 |
| Jan 2003 | 939 | 0.02 | N/A |
Note: Readers are cautioned that the Growth percentages are based on a module's market share penetration rather than the absolute number of modules we detected. Thus, it is possible for the number of modules to increase, while the growth is actually a negative value.
Looking for a specific module? Check the module registry at http://modules.apache.org


---
Startseite | Über uns | Kontakt | Partnerprogramme | Developer APIs | Datenschutz | Mailinglisten | Missbrauch
Sicherheits Überprüfungen | Verwaltete DNS | Netzwerk Überwachung | Webseiten Analysator | Internet Recherche Berichte
Web Sonde
© 1998-2020 E-Soft Inc. Alle Rechte vorbehalten.